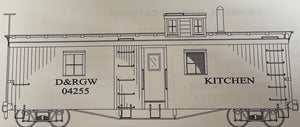 D&RGW Kitchen Car 04255 1:20.3 Scale.
04255 was listed in service by 9/30/1914. The ICC valuation Survey inspected the car at Embudo, NM. on 10/7/1920. It was listed as a kitchen car in the B&B dept. The car body was sold after retirement and is currently slated for restoration at the Colorado Railroad Museum.
This Kit includes wood sides and trim all metal detail parts with Trucks and Wheels.